Doubtless Bay
According to Maori Legend, Taipa was the original landing place of Kupe, the great Polynesian navigator who discovered 'Ao-tea-roa', the land of the 'Long White Cloud'.

Centuries later, in 1769, a Yorkshireman, Captain James Cook, looked in on this expanse of water, declared it "Doubtless a Bay" and continued his circumnavigation of New Zealand. Within days, another explorer, the Frenchman de Surville, anchored on the western side of the bay for a number of weeks... who knows what history could have been written had these two great explorers met!

There is so much history in and around Doubtless Bay, but room does not permit it to be told here. However, much has been written and books (e.g. 'What you can do in and from Doubtless Bay' by Neva Clark McKenna) are available in our local shops and accomodation houses.
Feeling Interested?

Stay with us for one night or perhaps several nights - we offer a wide range of accommodation alternatives to suit all tastes and budgets. Wander around the gently bustling village of Mangonui where there is a good selection of shops, the banks, service station and information centre.

Peek into our crafts and curios shops, the sea shell museum, and visit the Mangonui Wharf, stock up at the general store (which also contains the Post Office), or have a cup of tea and bite to eat in one of our tearooms. The licensed and BYO restaurants and cafes around doubtless Bay assure you of a night to remember and a visit to the well known Mangonui fish and chip shop is a real treat.

Going north into Mill Bay you'll find Latchmore House, the quarters of the Doubtless Bay Society of Arts. A wide variety of events and displays are on their calendar and a visit may find you 'having a go' at a hands on day.

Shopping, LPG and a dive shop are available at Coopers Beach, with a general store in Cable Bay and a service station and shops also at Taipa and Whatuwhiwhi. Marine and auto mechanics are located at Mangonui, Coopers Beach and Taipa and for those with a good appetite there are excellent takeaways at Coopers Beach, Taipa and Whatuwhiwhi.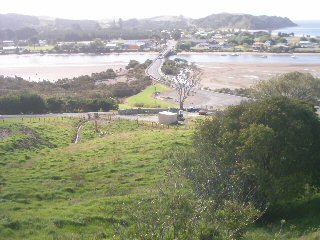 Taipa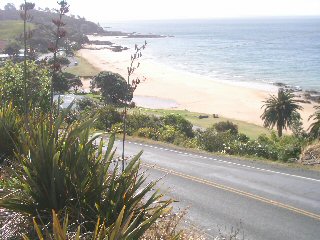 Cable Bay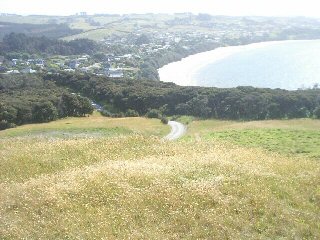 Coopers Beach, viewed from Rangikapiti Pa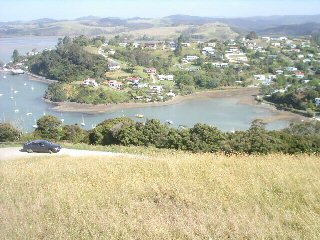 Mangonui Harbour on the far left, Mill Bay on the right,
viewed from Rangikapiti Pa