Te Paki
In 1966, the Crown purchased Te Paki Station, on the Northern extremity of New Zealand, which is known as the Aupouri Peninsula. The Mokaikai Block was bought in 1973 and, in 1983, a number of sand dunes which adjoin Te Paki stream were added. The Government approved of the whole of this area being set aside for permanent reserves. They were to be managed together with North Cape Scientific Reserve and Motuopao Island Nature Reserve as a single unit known as Te Paki Farm Park. A further two blocks of land between Te Paki and North Cape are owned by the Maori people of the area.
The lands that form Te Paki Farm Park, 23,000ha in all, are situated 420 kilometres from Auckland and linked through the northernmost town of Kaitaia by the main highway. They are made up of a great diversity of land forms and are recognised as a separate, identifiable, ecological region with New Zealand. Te Paki Farm Park is managed by the Department of Lands and Survey whose objectives are to develop the park to provide recreational opportunites and to protect both the natural and cultural environment. In this, development will be restrained and an effort made to maintain the remoteness of the area. The park is divided into four reserves with different classifications: Te Paki Recreation Reserve which includes the farn, Mokaikai which is a scenic reserve, North Cape as a scientific reserve and Motuopao Island as a nature reserve.



Te Paki Recreation Reserve

This includes most of the accessible recreational beaches, the dunelands, Cape Reinga, Te Paki stream and hinterland of scrub covered hills, as well as the 2,900ha of pastoral farmland.
Considerable potential exists within these areas to develop as extensive network of walking and tramping tracks to add to those already there. Further picnic areas and facilities will also be developed. The overall philosophy is to balance recreational use with conservation so that impact on the natural beauty of the reserve is kept to a minimum.
Animals are not permitted (except for farm use). Vehicles are to be used only on the roads, archaeological sites are protected and any buildings will be designed to integrate with their surroundings.
The farm area of this reserve is an important and integral part of the park and of great interest to urban people. Visitors are incouraged to make use of the farm tracks and access over the farm is permitted. There will be the chance to observe some farm activities in the future, and an information centre is planned.



North Cape Scientific Reserve

This area is classified as a scientific reserve because of it's unique biological value. It contains a number of plants found nowhere else in the world as well as distinctive serpentine soils and two flax snail colonies in the Rare and Endangered Species category. Because of it's importance, a stock and feral animal removal programme is being undertaken.



Motuopao Island Nature Reserve

This island, lying offshore from Cape Maria Van Diemen, is valued for it's breeding colonies of fairy prion, white-faced storm petrel and black-winged petrel. With rodent control, the island could also become suitable to relocate endangered lizards and invertebrate animals from elsewhere in the park. Access is restricted to special permit.



Mokaikai Scenic Reserve

Together with the adjoining Ohao Blocks this area has an outstanding natural landscape and high concentration of historic and archaeological sites. Although grazed prior to purchase by the crown the reserve is now rapidly regenerating to native vegetation. Emphasis is on conservation. Although some access is possible, to get to Mokaikai or North Cape, permission is necessary to cross Te Hapua land.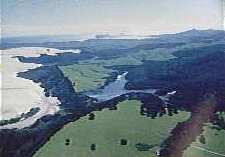 West Coast Sand Dunes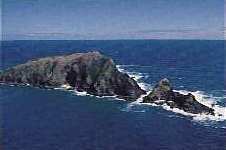 Motuopao Island Nature Reserve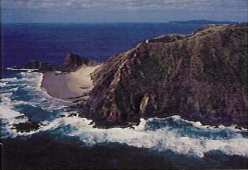 Te Paki