Recreation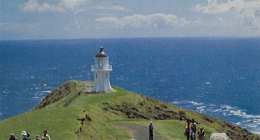 Start of New Zealand Walkway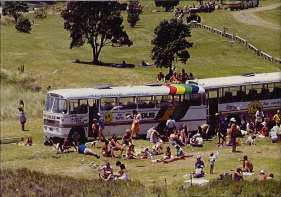 Tourists
As a place of recreation, Te Paki will mean different things to different people. For some, it is a place of escape; for others, an opportunity for adventure and activity in the form of camping, tramping, fishing or swimming. Others will gain satisfaction from exploring the cultural, historic or natural history of the park's past and present, and the area lends itself well to specialised interests such as photography or skin diving. It is also rewarding to do nothing but soak in the sun and fresh air and ponder the fact that this is the place where the land ends.
There are two camping grounds at present. Three kilometres south of Cape Reinga is Tapotupotu Bay with 45 camping sites, water, toilets and cold showers. The beach is clean and sandy, stretching between two high hills with a tidal stream suitable for canoes and dinghies at it's eastern end.
The second camping area is at Spirits Bay, with room for 200 camp sites. The beach here is 8 kilometres in length, edged with low sand dunes. Water, toilets and cold showers are also available. Camping at Te Paki is available on a 'first come, first served' basis and is designed for those who enjoy camping with limited facilities. Campers need to bring their own protable cooking equipment as there are restrictions on the lighting of fires. There are also picnic areas set aside at Te Paki stream, Tapotupotu Bay and Spirits Bay, but visitors are welcome to picnic wherever they wish in the park. There are many fascinating walks through the park which take from 2-6 hours. The first section of the New Zealand walkway runs from Cape Reinga to the northern end of Ninety Mile Beach, and a network of tracks thoughout the park gives access to the many beautiful beaches, sand dunes and bushlands.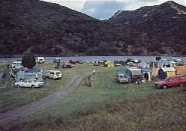 Camping At Tapotupotu Bay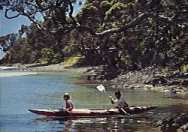 Canoeing on a gentle stretch of river
Bush walking - Kauri Grove
There are walks from Cape Reinga to Cape Maria Van Diemen, Tapotupotu Bay, Ninety Mile Beach and Te Paki stream. Walkers can also wander over the farm, but are asked to close gates and leave stock undisturbed. All tracks are well marked.
Swimming is safe at Tapotupotu Bay and the eastern end of Spirits Bay, but is not recommended on the west coast where currents can be treacherous. The coastal waters of the park offer excellent rock and beach fishing. Spirits Bay is renowned for it's large kingfish and snapper, and there is good fishing also from Tapotupotu, Twilight Beach, Ninety Mile Beach and Cape Reinga.
There are also good skin diving opportunities off the rocky coast of Cape Maria Van Diemen, Hooper Point in Spirtits Bay, and Tapotupotu Bay.
New dimensions to the enjoyment of the park horse trekking, helicopter flights and four wheel drive safaris. Horse trekking ranges from short, half day or day rides to a longer camp-out three day trek.
Helicopter rides are a way to see the various land formations of the west coast, and vehicle tours provide access into some of the less frequented areas of the park. There are gentler adventures in the daily scenic bus tours from Kaitaia to Cape Reinga which include a fascinating journey down Te Paki stream and along Ninety Mile Beach, or tours which add a barbecue and swim stopover at Tapotupotu Bay.