The Farm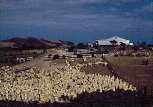 Droving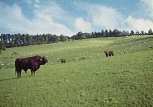 Stock Grazing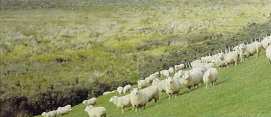 Sheep on a Te Paki hillside
In 1966, the whole of Te Paki Station, comprising 16,000ha of land was purchased from the Keene family by the Crown. Of this area, 12,000ha was grazed and the station carried about 8000 sheep and 1400 cattle.
Since the Lands and Survey Department took over the management the area of farmed land has been reduced to 2900ha that now comprises Te Paki farm. The remaining 9,000ha of grassland is being encouraged to regenerate back to the natural vegetation.
Part of Te Paki farm can be seen from the road to Cape Reinga. The area is a mixture of clay and gumland soils suitable for the breeding and fattening of cattle of sheep. At present, the farm has a tock carrying capacity of 31,000 stock units and supports 16,000 Perendale sheep and 2,500 Angus-Hereford cross cattle. 6 Santa Gertrudis bulls were bought recently for cross breeding aimed at producing a higher yield of lean meat. Cattle are fattened in early summer so stock numbers are reduced during the normal summer drought. Because of the characteristics of weather in the north, the growing of time for grasses continues through the warm winter and slows down in the summer which is dry and aften drought prone.
In the spring 12,000 bales of hay and a 65ha crop of fine chopped grass silage are grown to supplement the shortage of summer and autumn feed. There are 8-10 full time shepherds and farmhands on Te Paki, including a farm manager. They use horses for mustering, and lambing beats and each man has five working dogs at his command.
There are two public access tracks across the farm and visitors are welcome to walk on farmland provided consideration for animals and farm work is observed.